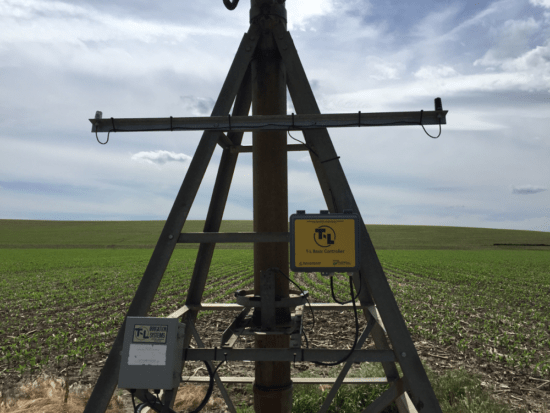 T-L Basic Controller
FieldWise and T-L Irrigations Engineering Department have worked closely and continue to develop telemetry products specifically for T-L. The T-L Basic Controller can be mounted at the end tower, if you have span cable ran on a Point Control, Precision Point Control or Linear Systems at Tractor pivots. With this installation you can monitor running, stopped, pivot angle, travel direction and water pressure. You can control the endgun and if you have extra cable the aux relay and stop.
The T-L Basic Controller can also be installed at the Alan Bradley panel with a wireless connection to a Remote GPS; which is mounted on the end tower for positioning.  The T-L Basic Controller works with a Main Control, Point Control, or Precision Point Control system.  It monitors run status, position, direction, and pressure.  You can also control the end gun, aux, start, stop, and pump.  The Remote GPS is sold separately.
Technology
Designed specifically for T-L Pivots
Simple design, easy to install
Modular Smart Radio
Integrated radio module
More efficient and compact surge protectors
Compatible with a Solar Powered Remote GPS
Extra protection with rectifiers and isolators
10-60VDC or 24VAC Power